---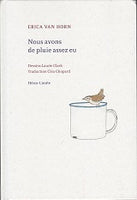 Nous Avons De Pluie Assez Eu
Van Horn, Erica
The French translation of 'Too Raucous For A Chorus'.
32 stories of about a page or so that tell of "the plight of birds encountered in local circumstances", by E.V.H. who in her recent publications turns more and more to writing, and she does it well, in this work she recounts episodes from her life in rural Ireland in which birds play a prominent role; she talks about Michael the adopted robin, her attempts to thwart local bird hunters, the difficulties of removing bird dropping from your windshield, catching errant sparrows with a colander or the small tragedy of finding a bird with a broken neck below your window.
With lovely, delicate colour drawings of birds and objects by Laurie Clark that truly bring the stories to live.
Translation by Cléa Chopard, hard cover, 20 x 13,5 cm, 62 pages, Clonmel 2018
ISNB 978-2-88955-027-2