---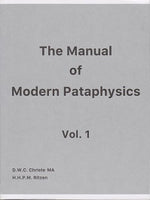 The Manual of Modern Pataphysics, Vol. 1
Christe, Dienand + Henri Ritzen
"The Manual of Modern Pataphysics, Vol. 1 is about a forgotten art movement - pataphysics. This art movement was the first to use humor and absurdism and was at the origin of artistic trends such as Dada, Fluxus and Pop Art. The desire for freedom and questioning rules in general are the starting points of this movement.
Both authors, Dienand Christe & Henri Ritzen, make convincingly clear why a distinction between classical pataphysics and Modern pataphysics is relevant. Especially today.
This is not done in an art-historical way, but by 'showing it' and giving methods/exercises that are directly applicable in daily practice.
What can already be regarded as the standard work on this subject is a unique combination of an artist's book, a management book, a study book and a philosophical book with important life lessons."
An eclectic collection of texts and visuals that document, explain, promote, revive and exemplify the pataphysics movement, a work that makes all other book on similar topics irrelevant if the foreword is to be believed:
"We, the makers of this book, know that it will become the bible of future international education, especially art education. From now on, you can forget about all other books on art history, philosophy and the like."
With contributions by Arie van Vliet, Barry de Bruin, Dawn Oxenaar Barrett, Dingeman Kuilman, Geert Setola, Ruud van Empel, Stefan Ruitenbeek (KIRAC), and Susanne Helmer, text in English, soft cover, 22,5 x 17 cm, 372 pages, (Rotterdam) 2021
ISBN: 9789464371369